Many homeowners believe their homes are sufficiently free of dust and debris, therefore they don't need to have air duct cleaning. This is simply not the case as dust, dirt and other debris can be present in even the most spotlessly clean homes. Here are five of the most common indicators that your home air duct cleaning is overdue.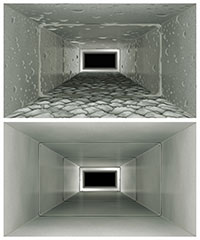 Decreased Effectiveness
Visible Mold: If you can see any signs of mold spores on the outside or inside of your vents or ducts, you need emergency air duct cleaning. Mold can be extremely toxic and can significantly compromise the indoor air quality. Home systems can be cleaned of mold effectively using a professional air duct cleaning service or by confident DIY enthusiasts. Air duct cleaning Yorba advises that homeowners attempting to clean mold themselves should take proper safety precautions including a mask and gloves to minimize the risk of inhalation.
Presence of Vermin: If you have seen indications of vermin in your home, you may find that they have discovered what a warm and cozy place your ducts are. Pest controllers can provide advice and guidance as to whether there is a presence of vermin in your system, but care is advised.
Clogged Ducts: If you are able to see vents or ducts clogged with dust and debris or you have noticed an increase in dust on surfaces in your home, there is a good chance that your ducts need to be cleared.
Your Energy Bills Have Increased: While we are all aware of the rising costs of energy, if you notice that your bills are significantly increasing, it could be that clogged vents are forcing your system to work harder. The accumulation of debris can reduce air flow which can compromise the energy efficiency of your system.
Decreased Effectiveness: You may also have noticed that your air conditioner or heating doesn't seem to be as effective as it used to be. This is another sign of a compromised air flow caused by an accumulation of debris.